Brief Battles (Kickstarter Demo)
A downloadable game for Windows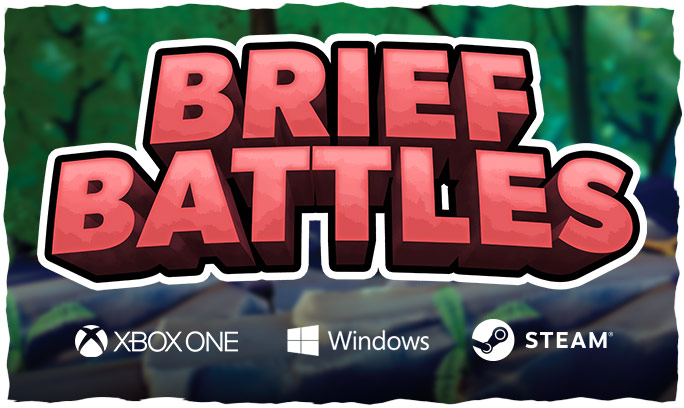 May your butt reign supreme in Brief Battles, use your underpants to fight your friends in this fast-paced couch gaming platform fighter!
Conquer your foes with flaming hot pants, buns of steel, toxic tighty whities and more. Brief Battles features over-the-top gameplay, colourful heroes, ridiculous game modes and hilarious combat powers.

This is the Kickstarter alpha demo to give you a tiny taste of the big butt-em-up picture.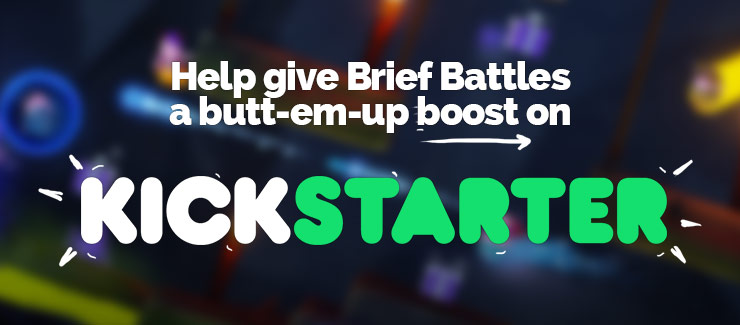 This demo includes:

Basics training (single player)
Classic Battle game mode (2-4 players)
2 arenas from each of the following regions

Precarious Peaks
Crystal Caverns
Frosty Fields
Wild Woods

6 pairs of super powered underpants to battle with
4 plump yet agile heroes to choose from
Guaranteed bugs (it's alpha after all)
The full game will include all of the above plus:
Classic Battle - Team game mode (3-4 players)
Hold the Gold - Classic & Bare Buns game modes (2-4 players)
Underpants Collector game mode (2-4 players)
10 arenas for all of the regions listed above
Tighty Whitie Targets game mode (solo or co-op)
Underpants Collector game mode (solo or co-op)
Butt-em-up Battles game mode (solo or co-op)
More heroes!
Probably not the bugs
See more on the Kickstarter page!
*The current version is in development with some limited functionality to give you a taste of what game-play is like*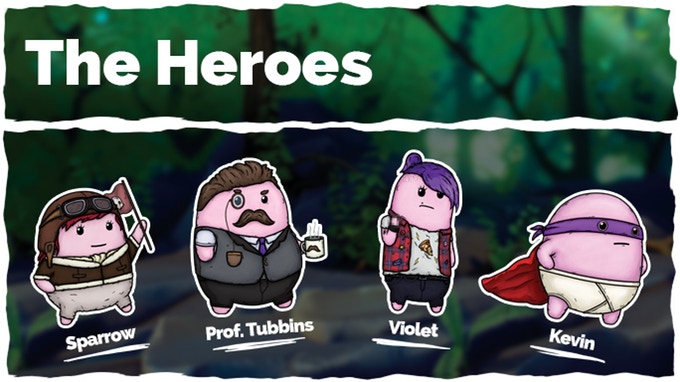 You'll need game controllers to play. Keyboard is not supported. So far the demo build has been tested with Xbox 360 and Xbox One controllers.
If you only have PS4 controllers, you can run a free application called Input Mapper before starting the game, your computer should pick up the controllers correctly. The download is only 8mb and can be downloaded here: https://inputmapper.com/. Official support for other controllers will come in future versions.

You'll need 2-4 people to play the available multiplayer game mode. It's always a heap more fun with 3-4 players!

Before starting a match, ensure that joined players have filled slots sequentially, i.e. P1, P2, and P3 are ok. P1, P2, and P4 won't work.

The demo build is for windows only.

This demo only supports 16:9 resolutions. The full game will feature more aspect ratio support.

It's been reported that some antivirus software might cause a "Couldn't start" windows error. We'll be sure to look into this, though it seems to affect other games using the same engine.
*This demo is in alpha development and is therefore provided "as is" without warranty of any kind. This is not a review build, streamers please include a disclaimer stating the game is in alpha development. Reproduction, sale or redistribution of this demo build is strictly prohibited.
This is our first widespread distribution of Brief Battles. If you have issues with stability or performance please report them using this form. Keep in mind that game settings and optimisation improvements are fairly new in this build version.
Minimum specifications:
Unreal Engine recommends the following, though we've added some super low settings and have been able to run the game on much lower end machines (mobile GPU's etc.)
Windows 7 64-bit or Mac OS X 10.9.2 or later
Quad-core Intel or AMD processor, 2.5 GHz or faster
NVIDIA GeForce 470 GTX or AMD Radeon 6870 HD series card or higher
8 GB RAM
| | |
| --- | --- |
| Published | Oct 23, 2017 |
| Status | In development |
| Platforms | Windows |
| Rating | |
| Author | Juicy Cupcake |
| Genre | Action |
| Made with | Unreal Engine |
| Tags | Beat 'em up, brief-battles, couch-game, Local multiplayer, Multiplayer, Unreal Engine |
| Average session | A few minutes |
| Inputs | Xbox controller, Gamepad (any) |
| Multiplayer | Local multiplayer |
| Player count | 1 - 4 |
| Links | Homepage, Twitter, Steam Greenlight, Press, Kickstarter |
Install instructions
The demo is contained in a zip file. Unzip the file after downloading and run the application to play.
Please note that you may need to bypass any popups from windows if they warn you that the application isn't from a trusted developer.
*This demo is in alpha development and is therefore provided "as is" without warranty of any kind. This is not a review build, streamers please include a disclaimer stating the game is in alpha development. Reproduction, sale or redistribution of this demo build is strictly prohibited.
Download
Download
Brief Battles Kickstarter Alpha Demo 0.1.zip
676 MB
Comments
Log in with itch.io to leave a comment.
I forgot to add, notify me when you have PC version or controls up plz!!!! excited to play this!!
We've got a new demo version up now with a few nice to have updates and fixes!
- Video codec playback error fix (was blocking start up on some systems)
- Added clearer in game notices.
- Fixed menu unfocusing from mouse use.
- Various bug and stability fixes.
If you want to test it out and let us know how you go that'd be great! :D
Thanks for fixing my issue and the game works well on 720p on low settings (30-40 fps) and the game is amazing! I don't like this type of games but this is really cool. I like all of the game modes. Thank you for fixing this issue and have a great day.
I start the game and I hear the sound of unreal engine intro and then it crashes. I can't start the game.
I am running windows 10 pro
I have 8 gb of ram
processor: AMD A6-5400K APU with Radeon HD Graphics It's 3.60 GHz and It's dual core
Graphics: AMD Radeon HD 7540D
and it's 64-bit system
Yea and it's crap.
Hey ConTROLLerBoi!
That sounds like a sad time. If you're not getting any visuals it could be something we've experienced in the past with PCs missing video codecs needed to play the startup vid and menu vids.
Thank you so much for your detailed specifications! It'll help a lot with debugging.
You could try checking if windows has any optional updates with codecs available, but we'll look into a solution for this in an updated demo. We're working on one right now. Thanks for your patience! Let me know how you go with codecs if you give it a go :)
The card is also a bit below unreal engines min spec, but our lowest setting might be alright! :)
thank you for replying and I will get a better computer (I don't know when, I expect it soon) And my English is bad.
No worries! We just uploaded a new demo that hopefully fixes the video crash on startup. Do you want to give it a go and let us know how you go? :)
We've got a heap of single player and co-op the full version! We do love multiplayer though :D
Nice game, cant wait to see when you have a community open for it!
GOOD LUCK !
Cheers DankLord! :D
Is it cool if we ask what you'd be keen to see in a Brief Battles community? :)
YES it would be GREAT if I could play this on PC with NO remote controller
For sure! Single player content will absolutely have keyboard support in the beta and beyond :) You'll need controllers for multiplayer though.
Hey DankLord just thought you might like to know we've started a lil' Brief Battles comunity on Discord you are more than welcome to join if you like https://discord.gg/HhDV8gf
cool and beautiful game...I love it and also here's a video I made hope you guys like it
Thanks so much for playing and for making a video! Glad you made it through that last movement level! You had us on the edge of our seats haha.
You probably noticed the alpha demo is more multiplayer focused with the basics just to get you going. The full game has a HEAP of single player and co-op content :)
glad you liked the video that I made
We'll be sharing it on our social later!